Yahrtziet Memorial Board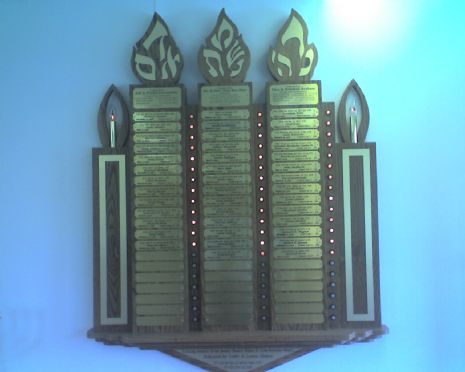 A Memorial Wall has been purchased for the CHAI Learning Center of West Houston.
Our sages tell us that the best memorial for a Jewish loved one is to donate Tzedaka (Charity) in their memory.  You can dedicate a plaque on the Memorial Board. Each plaque will be engraved with the name of the deceased, (Hebrew & English), and date of passing on the Jewish and secular calendar. There will be a light next to each plaque, that will be lit during the month of the Yartzeit, on the High Holidays and for all occasions when Yizkor is recited.
Payment Information: 
The memorial donation for each plaque is $360.  This is an introductory special for the first 20 plaques. The price will then be $500 a plaque. 
Top 3 bigger plaques are $1,000 each.
You can donate the entire board in memory of a loved one and recieve a big plaque at the bottom of the board for $3000. 
Please e-mail info@westchabad.org with the following information:  
Your Name
Phone:
Please include
1. Name of Deceased; Secular
2. Name of Deceased; Hebrew 
3. Name of father of deceased; Hebrew 
4. Secular day of passing; Month/Day/Year
5. Jewish day of passing; (if known); Month/Day/Year 
 Sample Plaque

Payment can be made by check or credit card.  To make a credit card payment through our website click here.