ShabbatSERVICES LIVE IN-PERSON EVERY Friday night and Saturday morning (10am)

SHABBAT DINNER RSVP

Hebrew SchoolChabad Hebrew School offers a friendly and stimulating environment, where children can embrace their Jewish roots and gain a true sense of Jewish pride.

REGISTER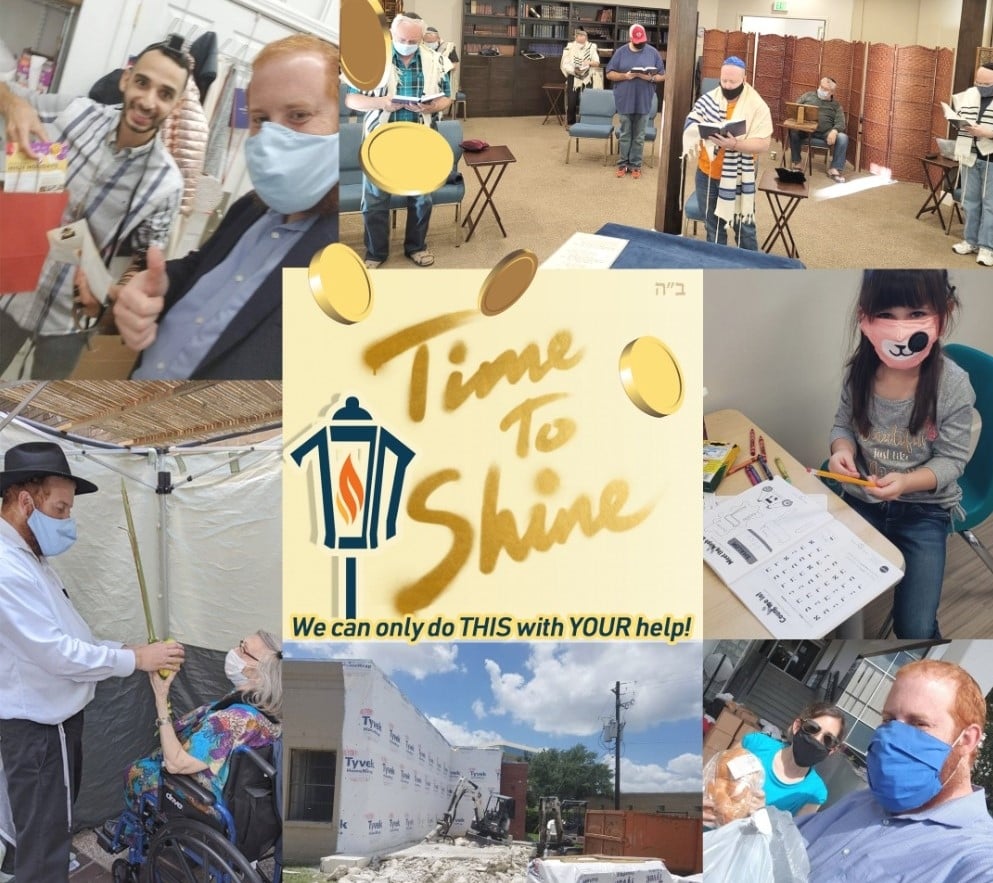 Thanks to YOUR help!
Thanks for Your Support
Enroll now for an educational experience of a lifetime
REGISTER
Lunch & Learn / Women's Circle
Read More...
Shabbat & Holidays

Candle Lighting Times
Houston, TX
Light Candles at
Shabbat Ends


Upcoming Holiday
Sep. 6 - Sep. 8
Daily Thought
To whom does a Jew pray? Can He be described? Does He have a name? No, there is no description with which to imagine Him, no name with which to grasp Him. Even the pronoun "Him" discloses too much to be true—as though He were something that is here or not here, hidden or revealed. As though He were only light. But He is not light. He is the source of light. At the source of all light, there is no hiddenness or revelation, no being or not being. There is only "You." Here, now, known to all beings in Your...
About
Chabad of West Houston is dedicated to igniting and strengthening the Jewish spark within every Jew in West Houston & Katy by promoting Jewish pride, study and celebration. Under the guidance of the Lubavitcher Rebbe, we service families and individuals looking for a non-judgemental, accepting, personalized Jewish experience and have established a warm and traditional synagogue where everyone is made to feel welcome and comfortable. We provide for the spiritual needs of all Jews living in West Houston & Katy - regardless of their affiliation or finances. We have an "open-door policy" with no obligatory dues in order to belong to our synagogue or programs as we believe that every Jew is already a member. We aim to provide Ahavat Yisrael (unconditional love) to all Jews and to assist, help and infuse the commuity with exciting programming and Jewish experiences. We have synagogue services and Shabbat Experiences, learning classes, latino gatherings, womens events, teen programs, Hebrew School, 60+ events, disabled community services as well as services for retirement homes and Jewish inmates. At Chabad West Houston, we have something for everyone!
Learn More
FAQ's
I would like to...

Donate

Connect

Get Involved

Learn Online
Learning & Inspiration
The Life and Teachings of Reb Elimelech of LizhenskLearn about the man whose powerful example set a template for inspired leadership that became...

Read More

Take the Ashkenazi Last Name QuizQuiz yourself on some of the most common family names found among Ashkenazi Jews today.

Read More

What if I did not Recline on Seder Night?Practical Mishneh Torah For This Week

Read More