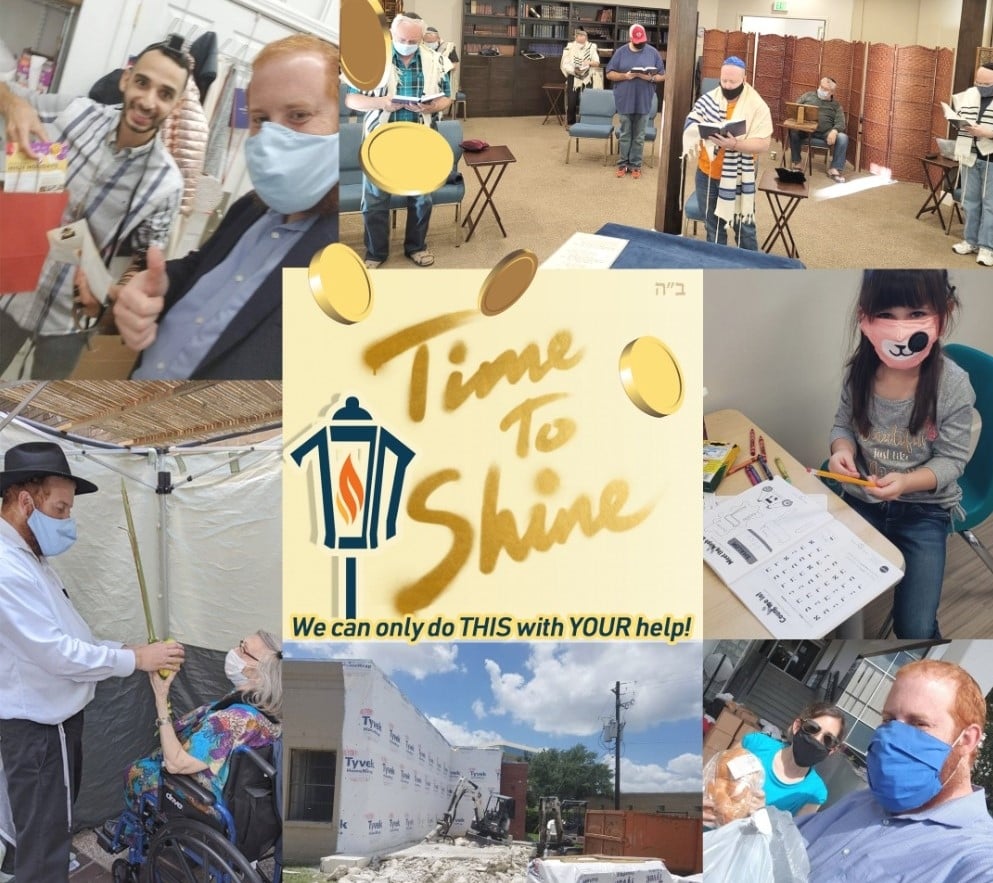 Thanks to YOUR help!
Thanks for Your Support
Enroll now for an educational experience of a lifetime
REGISTER
Lunch & Learn / Women's Circle
Read More...
Shabbat & Holidays

Candle Lighting Times
Houston, TX


Upcoming Holiday
Sep. 20 - Sep. 27
Daily Thought
A sukkah is an embrace. You sit inside and G‑d is hugging you. All of you, from head to toe. Whatever you do inside your sukkah—sip a beer, chat with a friend, answer your e‑mail, or just sleep soundly—all is transformed into a mitzvah, a secure and timeless connection with the Infinite. And then, when you leave the sukkah to enter the world, you carry that hug with...
About
Chabad of West Houston is dedicated to igniting and strengthening the Jewish spark within every Jew in West Houston & Katy by promoting Jewish pride, study and celebration. Under the guidance of the Lubavitcher Rebbe, we service families and individuals looking for a non-judgemental, accepting, personalized Jewish experience and have established a warm and traditional synagogue where everyone is made to feel welcome and comfortable. We provide for the spiritual needs of all Jews living in West Houston & Katy - regardless of their affiliation or finances. We have an "open-door policy" with no obligatory dues in order to belong to our synagogue or programs as we believe that every Jew is already a member. We aim to provide Ahavat Yisrael (unconditional love) to all Jews and to assist, help and infuse the commuity with exciting programming and Jewish experiences. We have synagogue services and Shabbat Experiences, learning classes, latino gatherings, womens events, teen programs, Hebrew School, 60+ events, disabled community services as well as services for retirement homes and Jewish inmates. At Chabad West Houston, we have something for everyone!
Learn More
FAQ's
I would like to...

Donate

Connect

Get Involved

Learn Online
Learning & Inspiration
Sharing the Season of JoyThe yahrzeit of the Rebbe Maharash, the fourth Chabad Rebbe, falls just before Sukkos, a time when...

Read More

Can I Tie Down the Sechach?Some sechach blew off during Sukkot. I was wondering if I can just tie it down with string. When I...

Read More

A Houseplant Named NedI think I am going to buy a houseplant and name it Ned. I realized I needed a houseplant after my...

Read More