ShabbatSERVICES LIVE IN-PERSON EVERY Friday night and Saturday morning (10am)

SHABBAT DINNER RSVP

Hebrew SchoolChabad Hebrew School offers a friendly and stimulating environment, where children can embrace their Jewish roots and gain a true sense of Jewish pride.

REGISTER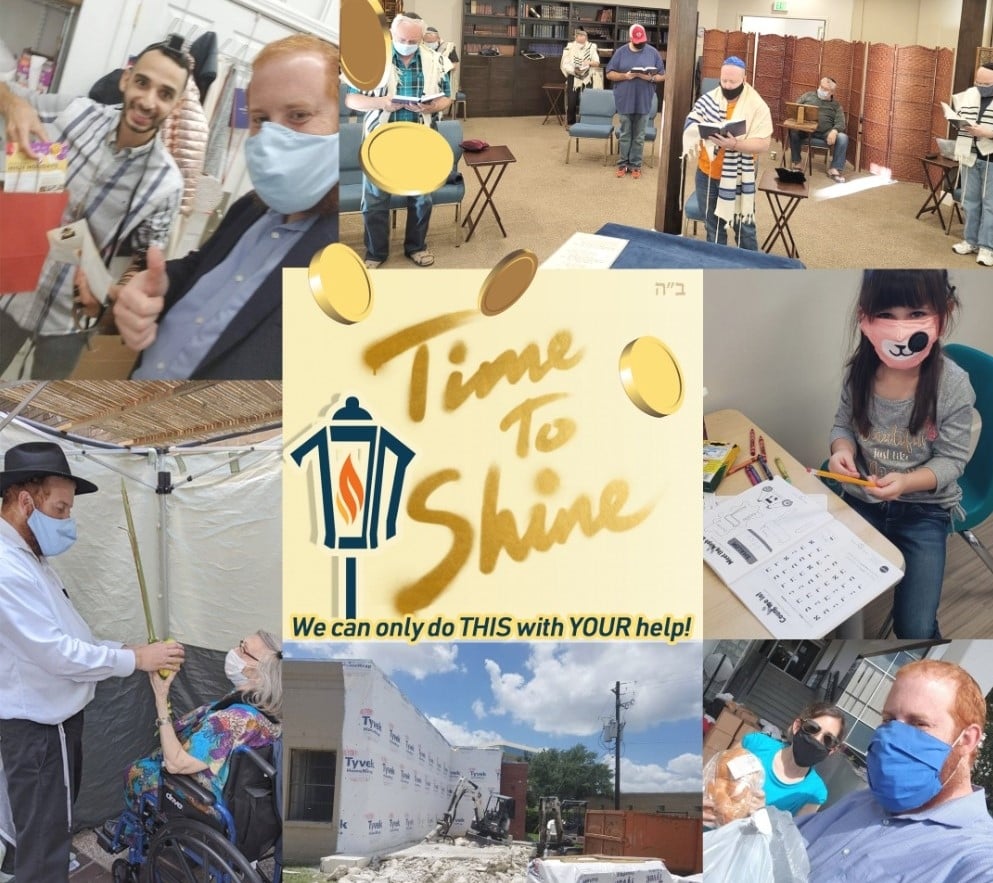 Thanks to YOUR help!
Thanks for Your Support
Enroll now for an educational experience of a lifetime
REGISTER
Lunch & Learn / Women's Circle
Read More...
Shabbat & Holidays

Candle Lighting Times
Houston, TX
Light Candles at
Shabbat Ends


Upcoming Holiday
Nov. 28 - Dec. 6
Daily Thought
G‑d appeared to Abraham…but he looked up and saw that there were three men… (Genesis 18:2) Abraham put aside his encounter with G‑d in order to greet his guests. From this we learn that hosting guests is so great that it takes priority over an encounter with G‑d. (Maimonides, Mishneh Torah) The three men that Abraham greeted and fed turned out to be angels. Angels don't eat or drink. Neither do they need a place to sleep. They only pretended to eat and drink out of respect for Abraham. If so, what did Abraham accomplish? He served food to beings that never hunger and drinks to beings that never thirst. For this he walked out of a private audience with G‑d Himself?! Aside from that, how can we...
About
Chabad of West Houston is dedicated to igniting and strengthening the Jewish spark within every Jew in West Houston & Katy by promoting Jewish pride, study and celebration. Under the guidance of the Lubavitcher Rebbe, we service families and individuals looking for a non-judgemental, accepting, personalized Jewish experience and have established a warm and traditional synagogue where everyone is made to feel welcome and comfortable. We provide for the spiritual needs of all Jews living in West Houston & Katy - regardless of their affiliation or finances. We have an "open-door policy" with no obligatory dues in order to belong to our synagogue or programs as we believe that every Jew is already a member. We aim to provide Ahavat Yisrael (unconditional love) to all Jews and to assist, help and infuse the commuity with exciting programming and Jewish experiences. We have synagogue services and Shabbat Experiences, learning classes, latino gatherings, womens events, teen programs, Hebrew School, 60+ events, disabled community services as well as services for retirement homes and Jewish inmates. At Chabad West Houston, we have something for everyone!
Learn More
FAQ's
I would like to...

Donate

Connect

Get Involved

Learn Online