CHAI Teen Club

"Fixing the World, One Mitzvah at a time"
CHAI Teen Club looks to enrich, inspire and motivate teenagers through monthly humanitarian projects that teach the benefits of volunteerism, and facilitate their responsibility and commitment to others.  
School Club- The club includes bi monthly meetings in High Schools to groom tomorrow's Jewish leaders. Activities include round table discussions of relevant Jewish topics and planning and executing monthly humanitarian community service projects. Current Schools Serviced: Stratford High School and Taylor High School

Humanitarian Projects- Monthly humanitarian projects include: feeding the homeless, working in the soup kitchen, volunteering at the Houston Food Bank, assisting children with special needs, visiting seniors at assisted living centers, rescuing cats at the Humane Society. These projects teach Teens the concepts of Chesed (kindness) and Tikun Olam (fixing the world).

Upcoming Project: Feeding the Houston Homeless 
Meet at CHAI Learning Center 
14133 Memorial Dr #1 
Sunday Nov  ,2013

12:00-2:00 pm 
Click Here to RSVP or call 281-589-7188 
On Sunday February 10th,  2013 The CHAI Club of Stratford and Taylor High School set out with Jay Hamburger to  feed the homeless in Houston. We gathered at the CHAI  Learning Center to make bagel and cream cheese sandwiches and set off to downtown to feed many of Houston's Hungry.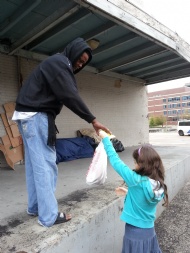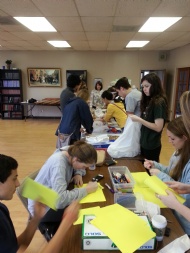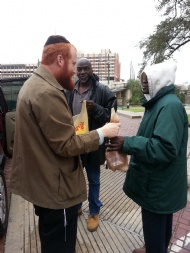 DEAR BROTHER DOVID & FRIENDS........ 

Today was a distinct pleasure having you & your group honor my homeless friends with your presence.  This particular day was more special than many, and I attribute this primarily to your collective kavanah.  I am a constant....and you brought compounded satisfaction.  The food was surely tasty...but I believe the real nourishment is in the spiritual sustenance we all place within each item we serve. 

I love watching your sweet children repeat this mitzvah....and what you instill in them.....as well in the young men & women....is an authentic gift to my homeless 'family'. 

I kvelled viewing the friendly respect your group showed our denizens of the dumpsters.  If anything helps re-humanize these folks, it is providing kind 'normal' relations.  Thank you for this gift to those who are important to me...part of my extended 'family'......... 

With gratitude, 

JAY....AKA:  The EGGMAN